Shell over at Things I Can't Say has started Pour Your Heart Out Wednesday.
Here are the Rules:
Write a post from the heart.
Something that has been weighing on you.
Something you feel passionately about.
Something you've been wanting to talk about.
A cause, a memory, a belief, a world view.
Anything.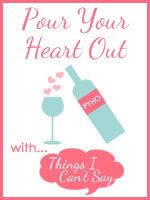 Pour your heart out, and then link up!
I'm not sure if this counts, but it's definitely something I've been struggling with. I like my job. Actually, I love my job. I work with awesome people and I'm challenged daily. The problem is that traveling is a large component 6-8 months out of the year. With a 4-month-old baby, it's hard!
It's hard to think about getting on a plane when my appointment calendar is minimal. It's hard to think about spending days away from home for clients who can sometimes be really worthless (though certainly not all of them). It's hard to imagine that Baby will be okay while I'm away, even worse to realize that she probably won't even notice that I'm gone.
Logically, it all makes sense. My family functions as a two-income family. My employer provides AWESOME and CHEAP health insurance. I am truly providing for my family, and this is important. Unfortunately, logic doesn't stand much of a fighting chance against the guilt, fear, and anguish that overwhelm me when faced with these responsibilities.
I always knew I would be a working mom. It's who I am. It's how I function at my best, and am thus able to best care for Baby. But, it's hard. Sometimes it just plain sucks.