So, I probably couldn't give you the definition of a meme if I tried, but I think I'm participating in TWO today!
First, Shell's Pour Your Heart Out Wednesday:
Here are the Rules:
Write a post from the heart.
Something that has been weighing on you.
Something you feel passionately about.
Something you've been wanting to talk about.
A cause, a memory, a belief, a world view.
Anything.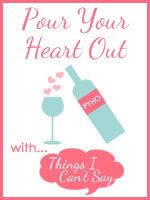 Pour your heart out, and then link up!
This might be a bit of a cop out, but it's definitely been on my mind lately. We're taking Baby for her 4-month check-up this week (new doctor!), and I'm fairly terrified about her weight check. Society today places a ton of guilt on moms who can't/don't breastfeed. We all know that I failed miserably at that particular task of motherhood. What's worse is all of the trouble that Baby has had with formula. We've tried regular. We've tried one for gas and fussiness. We've tried soy. And, now we're on advanced rice, the one for babies who spit up a lot. Husband seems to think this one is working better, but I'm not convinced. And, I won't be until we get that weight check (honestly, that probably won't even satisfy me). I'm hoping that Baby gains enough weight to indicate that she's getting enough nourishment from her formula. It's terrible to feel so responsible for all of these troubles, but it's even worse to watch her struggle with finding something that she can tolerate. I've got my fingers crossed that all goes well this week.
That said, we should move along to meme # 2 – Wine Wednesdays! Now, I didn't think of this one. I CAN'TCAN'TCAN'T believe I didn't think of this one!! But, I do think it's appropriate to follow a little heart pouring with a little wine pouring … what do y'all think?
One of my favorite wines is Kim Crawford's Marlborough Sauvignon Blanc. I don't have time to search for a picture, but, trust me … it's delicious! I pulled the following info from their website:
Wild at Heart
Deriving from the French word sauvage ("wild") and blanc ("white") ours is a crisp and powerful, well balanced wine with intense aromas of gooseberry, passion fruit and citrus flavours. This light to medium bodied aromatic wine to match with salads, seafood and vegetarian dishes and a perfectly acceptable quaffer!
Tasting Notes
Colour: Pale green.
Aroma: Lifted aromatics of tropical fruits combined with the traditional nettle and herbaceous aromas of Marlborough Sauvignon Blanc.
Palate: Firm acidity is surrounded by tropical fruits and herbaceous notes with hints of citrus sneaking in. A whopping mouthful of Marlborough.
Cellar: Ready to drink now, however this wine will continue to develop for 2-3 years.
Food Match: Good to drink with anyone at anytime. Ideally suited to asparagus, oysters and summer salads.