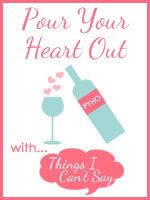 I had another post in mind for today, a post about the difficulties of balancing work and motherhood … the guilt you feel when you work from home but send your child to day care. Couldn't I just try to balance it all? Baby might not have a meltdown during that conference call. She just might let me complete all of my tasks.
However, that's a post that will have to wait for another day. Because. Because, this morning, I woke up to the most terrifyingly awesome realization since Baby's birth.
Husband's alarm rang at 5:30. Hmmm, I can still catch a few more minutes of sleep … OHMYGOD! Oh. My. God. I never fed Baby last night. She never woke up in the middle of the night. The last time I looked at the clock, it was 12:30, and she had eaten at 10:15. My alarm didn't go off at 3:00 am. I never heard her cry on the monitor.
Talk about a heart-in-your-throat kind of moment. Baby is an excellent sleeper, but she eats like clockwork.
A rush to her room to hear her breathing brought instant relief. Yes, in those 12 seconds, every single paranoid-mom-thought raced through my mind. Fever. Sick. SIDS. All of it.
But, she was just a sleepy girl. And in that moment of relief brought a fantastic realization. Baby slept for 7 hours straight! 7 hours! I doubt it will ever happen again. I almost don't want it to! Ha! As much as I'd love to sleep for 7 straight hours every night, I'm not sure it's worth the fear/anxiety that came with it.
Well, okay, it wouldn't be a bad thing if she decided to make it a habit! As long as I'm expecting it, I think I'd be okay. And, now that I know she's able to go 7 hours ...