If you need more info about Pour Your Heart Out, see
THIS
post.

But, really, it's anything that YOU consider pouring your heart out. Please grab the button for your post and link up!

Be sure to check out some of the links- you will find some amazing stories out there.

Again, just a brief reminder that everyone linking is pouring their hearts out and we should all be respectful in our comments. ;)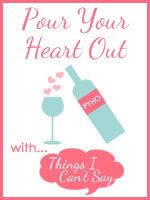 Today's Pour Your Heart Out is tough for me. I don't feel like I can really write about what's on my heart … lest I be accused of murdering all the world's teddy bears or something equally sinister. But, as the great and powerful Supah says, 'drama shmama' …
You know what
is
awesome, though? What
is
filling up my heart right now? All of your love for Monkey! And, all of your help in my own personal quest to contribute. Y'all have been fabulous, and I'm already at $38! Thank you!
Mission Monkey has pulled at my heart from the very beginning. Possibly because my own little Baby is another sweet tutu-wearing cutie. Possibly because one of my many nicknames for Baby is also Monkey. Possibly because there is just really nothing in this world that could prevent this from happening to any one of us.
This entire situation brings a lot of things into perspective for me. Life is too precious to dwell on negativity or to allow others to tear you down.
KLZ
suggests using alchemy to move forward in time. But, until somebody figures that out, here's how I am dealing …
Laughing in the face of it all.
Living life to the fullest.
Blowing bubbles and raspberries with Baby.
Making silly faces/voices for Baby giggles!
Loving my family with all of my heart.
Drinking a fantastic glass of wine.
Making it all work!
[And, probably buying a new pair of shoes! Because, well, anything is great excuse for new shoes! Serious question/poll: best summer shoes? What are your favs?]