Joining Shell for another Wednesday glass of Pour Your Heart Out. For details: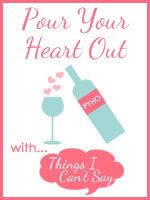 Today my heart is sad. I heard some terrible news over the weekend. A guy that I grew up with lost his young son in a drowning accident. Being that I'm originally from a small town, there are still lots of stories/rumors regarding what actually happened, so I don't know a lot of details at this point. What I do know is that this family needs our prayers.
Their son would have turned 4-years-old later this month, and I've heard that the family has requested birthday balloons in lieu of flowers at the funeral, which will be held tomorrow. Most of you reading this do not know this family. In fact, I really don't know them. But, if my heart is this sad just hearing their story, then I can't imagine what they're going through. I do know that our blogging community is full of phenomenal moms with big hearts. Please take a moment and say a prayer. Thank you.