It's another 'glass' of Pour Your Heart Out with Shell over at
Things I Can't Say
. For info on PYHO, visit Shell's blog.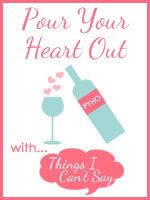 It's raining/storming/flooding here. It's been like this for the better part of 12 hours. Nine inches of rain so far, at least that's what we've estimated. These weather conditions conjure up all kinds of emotions for me, emotions that I can't let myself get into now. That's a place that I just don't have the time or energy to go today, primarily because Baby's day care is closed due to the weather ... and I'm here juggling her and work at the same time. It's taking most of my effort just to put on a happy face and not let her see/feel my nerves.
I loathe storms, despise flooding events, and fear what these conditions can cause.
What I will say is this … if you're having bad weather, please be careful. Drive safely. Make smart decisions. No meeting, event, etc. is worth risking your life.