Shell over at
Things I Can't Say
is hosting Blog Featured Friend every this summer, and this week it's my turn! Check out her blog, not just
my guest post
.... she's honest, realistic, and funny. She manages a busy life that included 3 boys and doesn't even bat an eye, unless of course somebody asks her if she's planning on trying for a girl!
I'm so honored to be her BFF this week!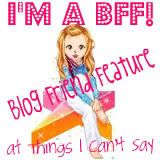 I'd also like to take a minute to introduce you all to another blog. It's not your typical mom blog. In fact, the writers are not moms, not women, not parents at all. They are, however, hilarious. And, if reality TV is your thing, you MUST MUST MUST check out my friend Matt's blog at
Straight Guys Who Watch Gay Shows
(www.straightguyswhowatchgayshows.com) for the every man's take on girly reality shows. They're just getting started, but I see this being wildly successful! Jump on the bandwagon now so you can say you knew them when. They're on Facebook and Twitter, so pick your pleasure and follow their fun!