Have you ever had one of those days? You know the kind … when everything you do seems to be a failure. A disaster. Utter chaos.
No? Well, then maybe you are mom of the year! But, I most definitely am not.
In fact, I'm not just having one of those days. I'm having several of those days. In a row.
I woke up this morning trying to figure out just how to summarize the debacle that the last few days have been when I came across the NOT Mom of the Year Contest hosted by
The Mommyologist
and
Life Without Pink
.
Then it hit me … I am sooooo NOT Mom of the Year. And, the last few days prove it!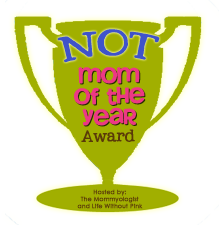 Here's why …
Baby has been a bit under the weather lately. We chalked it up to allergies. And teething. That's what it was last time she went to the doctor. And, by God, I wasn't shelling out another $20 co-pay to be told that there was nothing I could do about it. We suctioned her nose. We wiped her goupy eyes. We rocked her a little extra at night. Finally, I couldn't take it with her eyes anymore. I called the doctor. They told me to bring her in for pink eye.
I knew it wasn't pink eye (mother's instinct/common sense = one point FOR Mom of the Year!).
One early Saturday morning doctor's appointment later … Diagnosis: Double ear infection. Yes, go ahead and subtract that point. I suck.
How did I not know my child had a double ear infection? Probably because she had been pulling at her ears for days. Days. She had been fussy. Eating less from the bottle. Showing all the signs of an ear infection. But I didn't get it.
And, let's top that off with the following:
-I sent her to day care on Friday without socks. With a double ear infection. No socks. It was cold in that room.
-Baby and I took a short-ish road trip on Saturday after the doctor's appointment (for a wedding shower). She sat in the back seat. Alone. She screamed. A lot. But, not before she made the biggest dirty diaper en route, which I changed in the back of my car with the sun beating down. We were both sweaty messes. Because of said wedding shower, Baby didn't nap. So, again, she screamed on the return trip. We were both exhausted messes.
-I've forced her to change her sleeping habits while she's been sick (see Operation De-swaddle below). And even though we've recently figured out that she loves tummy sleeping, I can't put her down without waking her up. Screaming.
-Then last night I ran out of baby water to mix with the baby formula. Just ran out. Didn't even know we were in low supply. Husband and I went to 2 stores to find it this morning, and neither one had any is stock. So we're substituting distilled water until I can get to the grocery store later. I'm crossing my fingers that any fluoride content is low and won't harm my child. Just stellar, aren't I?
Am I a terrible mom? Sometimes I feel like it! But, no. I love my little girl, and she knows that. Sometimes, though, you just have a run of events that add up to disaster and leave you feeling like NOT Mom of the Year. And, that's where I am right now.