I'm joining Kmama at The Daily Dribbles for some Free Therapy Thursday!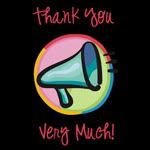 KMama says … The way it works is that you take out all your frustrations on people/things that peeved you off during the week and thank them in a very sarcastic way, for being who or what they are/doing what they did.
So, here we go ….
-To the specific-brand-of-formula-that-baby-uses: For redesigning your containers to a MUCH LESS CONVENIENT tub and bag format. For including LESS formula in these new containers and still charging the same price. Thank you very much.
-To the fabulous eco-friendly diapers (which I usually love): for failing us overnight and leaking. Everywhere. At 4:09 a.m. Thank you very much.
-And to myself: for choosing not to throw that extra load of laundry in the washing machine at 10:00 p.m. last night. The one with the only other crib sheet we own. So that we had to put the pack-n-play together at 4:17 a.m. so Baby would have a clean, dry place to sleep for the next two hours. Thank you very much.