I'm once again linking up with both
Shell
for Pour Your Heart Out and
Julia
for Working Mommy Wednesday. This is such a natural overlap for me, because the two are really intertwined in my heart and mind.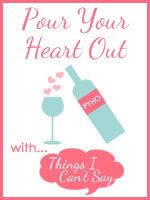 However, I'm once again forging my own path and not writing to one of the WMW prompts. Why? Because I've got some other things on my mind today ...
This morning I had a great time with Baby. We went to her last music class of the summer. My mom was able to join us, and we had a blast. Baby is at such a fun and interactive age right now – 8-months-old. She is so curious, and I love to watch her take everything in. And, she laughs! She laughs ALL the time. She's such a good natured baby.
After class, Mom and I took Baby out to lunch. We met a friend of mine and her little boy, who turns one in just a few days. It was one of my first experiences taking Baby out to a restaurant since she's become more mobile.
[Side note: if anyone wants to explain to me how a shopping cart cover can double as a high chair cover, I'm all ears. Apparently, I'm not so proficient with this little contraption. Probably because I never take my child out in public ... you know, it's germy out there and I'm paranoid!]
What does all of this have to do with work? Well, my flexible time for the summer is drawing to an end. I really only have a few weeks left before I start a very busy season for my sales job. I'll be traveling 3-4 days each week. I'll be busy all the time. We won't be able to squeeze in even a 45 minute music class each week, much less add in lunch with friends and family.
I know this time will be temporary – about 8-10 weeks – but I really hate how busy I'll be now that Baby is really starting to notice things, interact, explore, etc. This is the time that I'd love to be able to be more involved with her. However, the exact opposite will be happening. Not only will we miss fun classes, I won't even be at home a few nights a week.
It's my job, a job that I love. I know it's important to embrace my responsibilities. I know that I will be able to teach my child great lessons by being a working mom.
But, wow, it's such an emotional roller coaster. Some days, I feel confident, strong, and ready to go. Other days, not so much. I think it will be easier once the time arrives, and I don't have a choice but to handle everything professionally. But having to think about this for weeks in advance is starting to wear me down.
I think I'll be sneaking in as much extra time with Baby as possible this month!