It's time for me to double up on memes again. Pouring my heart out with Shell at
Things I Can't Say
: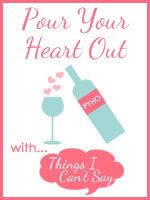 And joining Julia at
Work, Wife, Mom ... Life
for Working Mommy Wednesday:
[Julia - I promise I'll get to one of your prompts soon ... there is just another work-related topic that has consumed me for a while now ...]
I leave on Sunday for my
week-long
business trip. I've been thinking about it for weeks. I've also been trying
not
to think about it for weeks. I'm still not sure which approach is better.
But, I have to go. I have to leave Baby. I have to leave Husband.
It's my job. It's my professional responsibility. It's the only way to continue to secure salary and insurance for my family. I have to go.
And, it's going to be okay. I think.
I've made a few lists to help me process …
The Good:
-Meeting responsibilities
-Recharge time (six nights of sleeping through the night!)
-Adult/Professional/Social conversations/interactions interactions
-Good food/wine that I don't have to pay for 
-A week of leaving the house (hotel) without spit-up on my shirt or peas in my hair
-No dirty diapers!
The Bad:
-Leaving my child. For SEVEN Days. SIX nights.
-Not hearing her breathe in the night. I love that sound. It may be my favorite ever.
-Not holding her for six nights/seven days
-Not being the one to rock her to sleep
-Not being the one who is there when she wakes up
-No playing peek-a-boo or toes-on-your-nose
-Just planning not being there. And missing her like crazy.
-Missing Husband too! How am I going to stay calm when he is not with me?
Why it will be okay. I think.
-Skype. Thank GOD for Skype. At least I can see them every day (at breakfast, lunch, dinner, and maybe even a night or two … a mama needs to hear that baby's breath!)
-My 'recharge' mentality. If I do it correctly, I can come home recharged with a week's worth of restful nights and 'me' time.
-If I do it right, I can come back a 'better' mom. Of course, I have to avoid melting down. Daily.
I'm still convincing myself of all of the 'good' and 'why it will be okay' items on these lists. But I
AM
working on it …