Julia over at
Work, Wife, Mom … Life
has prompted us with:
You know you're a working mom when ….
For:
I'm also linking up with Shell at
Things I Can't Say
for another glass of Pour Your Heart Out.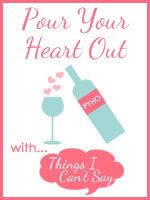 Baby is currently experiencing a new phase: Separation Anxiety.
Only, right now, it's more like Separation Anxiety meets Double Ear Infection meets Coughing/Sore Throat/Sneezing Cold meets Teething. Again.
Her new 'favorite pastime' is a game we call pick-me-up-no-put-me-down-no-hold-me-no-not-that-way-waaaaaaah!
And, it is … exhausting.
You know you're a working mom when
… you drop your snotty-nosed, cranky child off at day care even when you know you'll be called to pick her up within a couple of hours. You've had her at home for the last 2 business days, and you MUST get SOME work done.
I feel terrible about this fact. Husband says I should get over it, but I can't. He says that is what we pay the day care for, but it bugs me. I hate leaving my child at all, especially when she doesn't feel well. But the truth is …
You know you're a working mom when
… you have to suck up that emotional mommy guilt and just drop your child off for a while. After all, your job is what provides the insurance to pay for medical care for that very same sick baby girl.
What's more is how cranky I have been. I'm not proud to admit it, but I am a little under the weather myself. Couple that with a few sleepless nights and trying to cram a day's worth of work (which, during this busy sales season, is more like 10-12 hours instead of the typical 8) into the evenings … I'm worn out. And I wasn't even supposed to be home this week!
You know you're a working mom when
… you're rearranging business appointments and flights at 3:30 on a Monday morning. And, you're a little disappointed when you realize you'll be spending the next week dealing with suctioning runny noses, doctor's appointments, etc. instead of sleeping blissfully alone in a king-sized bed in a quiet hotel room. And then you immediately feel guilty for that disappointment.
I've still managed to pull off a really productive work week. I guess I've always thrived when I'm 'under the gun' … if I don't have that type of motivation, I tend to procrastinate. So, I've really been pretty efficient with my work-related responsibilities. However, I also probably need to pull it together and take a little better care of myself.
This morning I commented to Husband that I smell chlorine or something chemical-like when I inhale. He responded with a, "Maybe you should go see the doctor?"
You know you're a working mom when
… you can find time to squeeze in meetings for work, trips to the pharmacy for another round of antibiotics for baby, and even a couple hours of making baby food, but you can't seem to find a spot on your calendar to make a doctor's appointment for yourself. Tylenol and coffee. That's my self-prescribed remedy.
In any case, despite what seems to have evolved into a self-pitying soap box of a blog post, I do have a legitimate question for moms everywhere … do you have any advice or suggestions on how to modify a baby's sleeping cycle? Not naps, but at night.
Baby currently sleeps from about 6:00 pm until 5:00 am (with a couple of feedings during that timeframe). We've tried – unsuccessfully – to switch her to just one hour later, making her bedtime 7:00 pm. However, we can't seem to get her to last that long in the evenings!
If we could get her on a more reasonable bed time schedule, I'm thinking that times like this (i.e., when she's sick and sleeping fitfully at night) might not be quite as difficult … you know, if we weren't dreading her waking up at 4-something in the morning.
Thoughts? Suggestions? Pity? I'm taking it all today!
Okay, I really don't need pity. Maybe just a Sudafed-Motrin-Dayquil concoction.